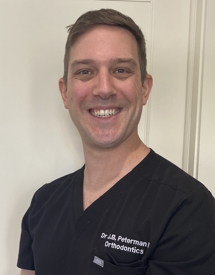 JB Peterman, DMD, MDS
Dr JB Peterman was raised in Lancaster, PA and attended Bucknell University, majoring in Biology and Economics. During his undergraduate summers, he was an intern at the world-renowned Lancaster Cleft Palate Clinic. It was there that he established the desire to care for patients with cleft and craniofaical conditions.
Dr Peterman obtained his doctorate dental degree at the University of Pennsylvania and was awarded a full scholarship by the US Navy. Following dental school, he was an active duty general dentist stationed with the Marine Corps at Parris Island, SC and Camp Lejeune, NC for a total of four years. He studied an additional three years at Rutgers University, Newark at University Hospital and was awarded his Orthodontics specialty certificate and Master's degree in Dental Sciences.
Dr JB maintains a private practice orthodontic office in Chatham, NJ where he treats patients of all ages and smile needs.
Location(s)
University
Internship
Externship
Languages Spoken
English
Specialty
Orthodontics
SCHEDULE A CONSULTATION
To schedule a private consultation with NJ Craniofacial Center, please call our office or request an appointment online. We look forward to your visit.
131 Madison Avenue, Third Floor, Morristown, NJ 07960
Visit NJ craniofacial center for all of your child's craniofacial needs