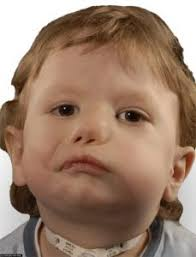 Moebius Syndrome is a rare birth defect that causes mild to severe weakness of the facial muscles and eyes. The incidence of Moebius syndrome is roughly 2 to 20 cases per million births. There is no gene defect or mutation associated with Moebius Syndrome at this time. The cranial nerves (CN) VI and VII are usually weak. The facial weakness can be on one side of the face or can involve both sides of the face.
Children with Moebius Syndrome may be unable to smile, frown, move their eyelids, or lips. This may cause a "facial droop" or "sagging eyes". This may also cause drooling or difficulty feeding. In some cases, children may have more generalized weakness, crossed eyes (strabismus), dry or itchy eyes, dental problems and tooth decay, high or arched or cleft palate, hand or foot problems with fused fingers or club feet, hearing problems, or chest and arm defects.
Most children have developmental delays but with the proper therapies and interventions, can develop and catch up nicely.  Therapies that may be needed include speech and language therapies, feeding and swallowing therapy, dental or orthodontic interventions, tympanostomy tubes or hearing aids, cognitive or occupational therapy. Rarely, if a child with Moebius Syndrome has a cleft palate, a plastic surgeon, oral maxillofacial surgeon, or craniofacial surgeon will have to surgically repair the cleft.
There are other facial surgeries that may be helpful for "re-animation" but as with all surgeries, there are risks and other considerations. All of our young adult patients and families with anxiety or stress may benefit from discussion and support from our pediatric psychologists and family counsellors.
The best treatment is an INTERDISCIPLINARY team approach and management. At the NJ Craniofacial Center, we have all the therapists, physicians, and surgeons necessary to treat your child with Moebius Syndrome.
Please call (973)326-9000 and make an appointment for an evaluation and recommendations.
You can also check out these sites for more info:
SCHEDULE A CONSULTATION
To schedule a private consultation with NJ Craniofacial Center, please call our office or request an appointment online. We look forward to your visit.
Visit NJ craniofacial center for all of your child's craniofacial needs