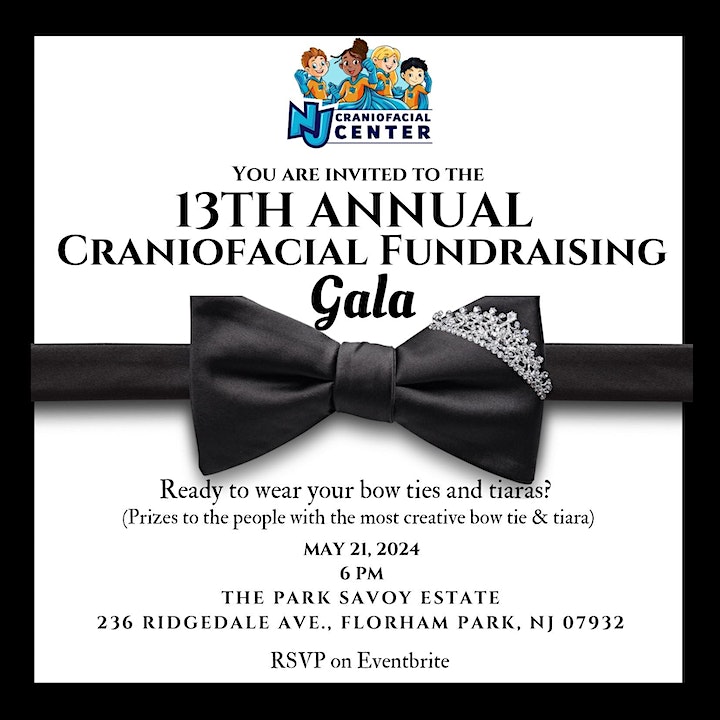 13th Annual NJ Craniofacial Gala Tickets, Tue, May 21, 2024 at 6:00 PM | Eventbrite
The 13th Annual Gala is hosted by the NJ Craniofacial Center (501c3), to help raise money for to provide continued treatement and services to the children and families in need around the world. Our gala will take place on Tuesday May 21, 2024, 6:00PM, at The Park Savoy Estate. Our theme this year is bow ties and tiaras! We will have door prizes to the people with the most creative bow tie and tiara! Get create 🙂
Our healthcare professionals are dedicated to helping children and their families overcome the challenges of craniofacial disorders. We look forward to supporting patient families dealing with these challenges, along with the great organizations who share our same passion.
Join us for a night filled with fun, great presentations, and your chance to win some great gift baskets, silent auction items or 50/50 raffle!
The NJ Craniofacial Center cares for so many children with craniofacial differences. All of our doctors, families, and medical team members' support the physical and emotional well-being of our patients. As we all know it is difficult being different, especially for children. We strive to provide children and their families the care and support they need to overcome these obstacles and assist them in feeling inclusive in the community.
All of our physicians and professionals strive to provide high quality surgical care to babies and children with facial abnormalities, and to bring their services to developing countries around the world. Hosting the NJ Craniofacial Gala each year helps us to not only assist patients in our home communities but also continue to support and provide proceeds to our next upcoming mission trip!
We appreciate your support and donations for another successful event, and hope to see you there!
All are welcome so please extend the invitation 🙂
13th Annual NJ Craniofacial Gala Tickets, Tue, May 21, 2024 at 6:00 PM | Eventbrite